Fabulous Inaugural Bull Sale for the Hain Family
posted by: gemma, 8th Jun, 2012 8:54am
The commercial support was clearly evident at the Hain's bull sale yesterday with a strong overall average of $5877 across all breeds and an excellent clearance. The top price bull, Lot 4 was purchased by commercial buyer Geoff Candy of Gisborne for $9000 who also bought Lot 9 for $6000.
The Herefords all sold exceptionally well with the Horned Herefords averaging $6620 and the Polled Herefords averaging $5355.
It was the first time that the Hains have offered Angus bulls for sale and Sam and Gemma couldn't be happier with the average of $4740. Lot 26, the top price, was purchased by Tennant McNeil for $5000.
The new selling facility was complemented by all and worked perfectly for the sale. The bulls were notably comfortable in the surroundings and came through the ring exceptionally well.
The beef prepared by Gisborne chef Mark Gardner was enjoyed by all following the sale. As a token of the vendor's appreciation, buyers received a voucher for a meal for two at Mark's Colosseum Banquet and Bistro restaurant.
The Hain team are delighted with the result and sincerely thank all buyers, under bidders, staff, friends and family for making the first sale at Waikura such a positive and memorable one.
Photos of the sale will be loaded shortly.
Sam and Gemma Hain before the sale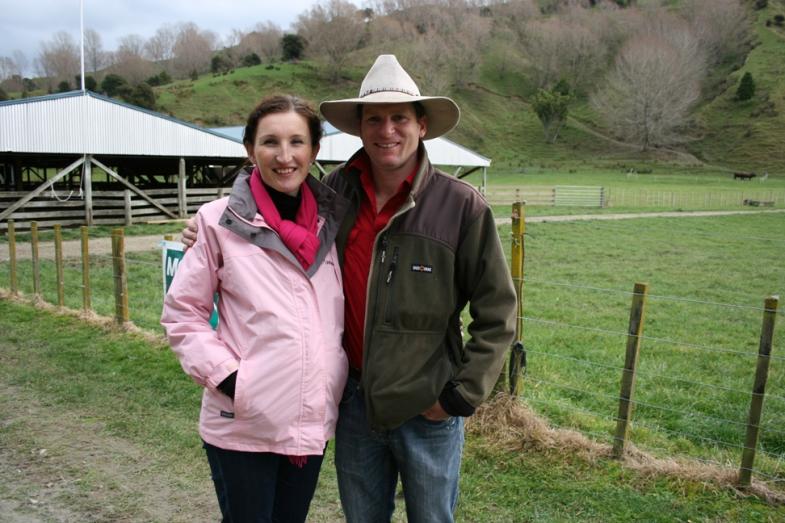 Comment via Facebook
[
Return to main page
]